Bob Kennington
Founder W. H. Bentley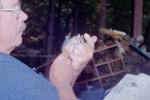 Joined: 02 May 2007
Posts: 189
Location: Winter Harbor
Posted: Sat Jan 20, 2018 4:31 am

Post subject: Booklet: "What Was Wyanoke?" The Early Years.

---

The booklet,

The Walter H. Bentley Years 1909-1941

...

In print, a good buy, and a good read. 'Wish the past week's email comments had been copied to this website.

My late Dad, even aged 97 in 2014, would have enjoyed reading it

very

much. After attending or working at many different Camp Wyanoke functions, he left the camp about 1937, eventually enrolling at US Army ROTC at Norwich University, then to the US Navy where, as a "Cadet", he trained PBY (Patrol-Bomber) pilots at Jacksonville, FL, up to

December 7th, 1941

.

Paul Byrd, not surprisingly, is given many mentions in the booklet. Back four years, when I mentioned the name Paul Byrd, my Dad startled the family by breaking into a vintage song! (About food of course). We didn't know he still had a fine singing voice! I only recall the word "Pumpkin" among the lyrics. (But it might have been "Sweet Potatoes" or "Yam").

Appropriately, Dad is pictured on page 2-42, lower left, abutting a great picture of Paul Byrd.

One huge Lake Winnipesaukee forum, in particular, may have a demand for this booklet, so I'd like to pass that information on.

Are there more booklets left?


_________________
Gordon B. (Father) Wyanoke ~1929-1937
Midget C-1 (1952, 53) (Belden, Edwards)
Junior J-7 (1954, 55) (Scheirer)
1967-1971 Military-Naval Security Group
Sister: Winnemont 1955-56



Blue

: there's another color?